Ternadim
Blog posts:
A galactic outlaw group has settled on Earth, a planet belonging to a large galactic conservation area. The Galactic Police has been ordered to get rid of the outlaws.
Have you ever wondered what Command & Conquer 95 mixed with Minecraft mixed with experimenting in RTS controls would be like?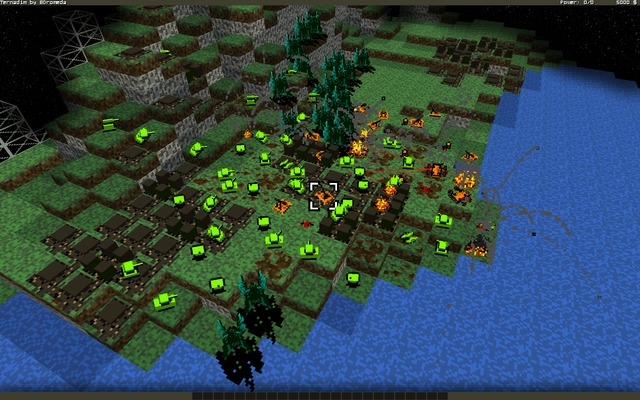 No. Yes. Whatever?!
Ternadim is a boxel-based RTS, controlled using a freely flying camera, made in the spirit of the old times, having been slowly in the works since 2011.
Ternadim contains a carefully (or not so carefully) crafted skirmish mission generator, with which you can endlessly challenge yourself, your friends, and any random people who might see the high score you uploaded on the Ternadim Online server!
Create your own special ops missions or whatever stuff like that using a powerful-ish... umm... well, a _working_ editor and an easy file format.
The Ternadim Online server contains any and all missions and high scores that other players have deemed worth publishing. Who has the maddest skillz? Can you beat A of 8Dromeda himself?!
The final release will (hopefully) contain full campaigns for the two factions, both having their own quirks and advantages.
Release date:

2013...2014

Platforms:

Windows, Linux (well, at least Wine)

Game modes:

Campaign, custom missions, online mission upload and high scores

Follow:

@8dromeda

Price:

Not much.
In-Development Releases